This week's learning is sponsored in honor of
Daniel Yaacov Meadvin
on the occasion of his
Bar Mitzvah
Sponsor a day of learning on TorahCafe, please click here.
41:55

Professor Lawrence Schiffman

"Tzedaka" is a Hebrew word that generally is translated as "charity", but a deeper look at both words reveals fundamental differences between the Jewish concept of "tzedaka" and the concept of "charity". ...

5:02

You've got questions, they've got answers!...

16:45

7:23

Dr. David Nesenoff

This segment introduces the journalist-rabbi-blogger, David Nesenoff, as he is presented with an award at the National Jewish Retreat. David Nesenoff captured the anti-semitic statements of White House correspondent, Helen Thomas, that ricocheted ...

23:42

Dr. Michael Kigel

"Messages" is a weekly TV show featuring ideas & ideals of the Lubavitcher Rebbe. This episode includes a short segment of the Rebbe speaking, followed by a discussion and commentary by Mrs. Chana Weisberg. This episode...

34:55

1:28

53:47

Rabbi Yoseph Vigler

The decree of the Cantonists during the reign of Czar Nikolai I of Russia (1825-1855), where young Jewish boys were taken from their parents and drafted into the Czar's army for 25 years and made to convert to Christianity, was a da...

23:25

Dr. Chana Silberstein

Does G-d follow His Own Laws? A Question of Timely Compensation This lecture was delivered at the 2010 Sinai Scholars Symposium, the Sinai Scholars Symposium is a yearly conference for university students, hosted by th...

20:54

Rabbi Dr. J. Immanuel Schochet

...

7:27

Rabbi Zalman Abraham

One of the general rules of Jewish fasting: if a fast day falls on Friday, we postpone it until the following Sunday. With the fast of the 10th of Teves, however, this rule is broken. What's so important about the 10th of Teves that makes it a...

40:06

Rabbi Yosef Y. Jacobson

Open a newspaper anywhere, any day, and you will see headlines screaming of pain and sadness. Since the days of Job, man has asked the same question over and over: Why me, G-d? We may never comprehend G-d, but we should know that G-d, Who understa...
Vaeira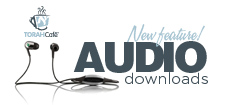 TorahCafe is a project of the Rohr Jewish Learning Institute (JLI)