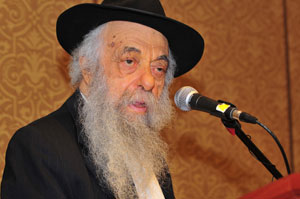 Rabbi Yoel Kahn, often referred to as "Reb Yoel," is the chief reviewer and transcriber of the discourses of the Lubavitcher Rebbe, Rabbi Menachem Mendel Schneerson, of blessed memory, and the most preeminent authority on Chabad-chasidic teachings. Rabbi Kahn was born in the former Soviet Union in 1930, and moved to Israel as a young child, where he studied under the guidance of a number of outstanding Chabad scholars. In his youth already, Rabbi Kahn was recognized for his rare penetrating intelligence and analytical skills, as well as his remarkable memory.
In 1950, Rabbi Kahn left Israel for New York, arriving just after the passing of the sixth Rebbe of Chabad, Rabbi Yosef Yitzchak Schneersohn. Rabbi Kahn assumed the role of chief chozer and meni'ach– (memorizer and transcriber) of the new Rebbe's talks. For decades, at each of the Rebbe's public gatherings, frequently held on Shabbat when recording or writing are not permitted, Rabbi Kahn would memorize every word of the Rebbe's discourses—which often lasted many hours' long. He and a team of students would then transcribe the talks.
Rabbi Kahn is also the lead editor of Sefer Ha'erechim, a multi-volume encyclopedia of abstruse chasidic and mystical concepts.
Rabbi Kahn lives with his wife, Rebbetzin Leah, in the Crown Heights section of Brooklyn, New York.